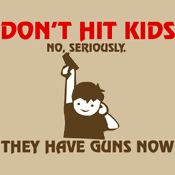 A few days ago, in conversation on the phone with a friend, talk revolved around the games available for playstation 2. Most of the games ported on video game consoles like the PS series are role-play. You are on the either side — The good guys or the bad guys. A terrorist on the run or a black commando killing robbers. Or a good earthling killing Martians. It boils down to one concept, the one of killing.

Honestly I am not in favor of letting a 13 year old use it because of the gore involved in the games. It is much worse than plain television viewing.

The concept of killing people with guns coupled with this modern amenity called a gaming console makes a combo that can be termed as trash of the western world. I got the console for myself when I turned, ahem, 26. Though I am sure I wouldn't have picked up the gun but I shudder to think how would it be if I had got my hands on this thing 13 years ago.

The effects are for you to see. The School killings in America. Back home, a first incident of its kind, happened in Delhi a few hours ago. I am not suggesting that the people involved in these incidents were directly influenced by video games but I certainly see a pattern of some sort here.

Children carrying guns to school. This is the new face of the society we are living in.